Ergonomics
The term "ergonomics" is formed from the Greek words "ergon" (work) and "nomos" (science, law). It refers to the science of human work, i.e. the ideal adaptation of work to the characteristics and abilities of the working human being. The objectives of ergonomics are humaneness and cost-effectiveness (achieved for example through optimization of work processes), in consideration of occupational safety and health. In order for these objectives to be implemented in work design, ergonomics draws upon research and its findings in the fields of ergonomics.
Aspects of the ergonomic design of workplaces encompass environmental variables such as climate (light, radiation, temperature), colour, noise, vibration, human body dimensions (anthropometrics), and physical and mental stresses at the workplace.
The work of the IFA's Ergonomics Unit is focussed upon stresses upon the musculoskeletal system of the human body. This system, consisting of bones, muscles, ligaments, tendons, cartilage and connecting tissue, may be subjected to both excessive and insufficient stress. Musculoskeletal disorders (MSDs) account for around 20% to 25% of all working days lost due to unfitness for work. Around half of these are in turn due to back complaints and disorders.
Excessive stress upon the musculoskeletal system may for example be a result of lifting, carrying, pulling or pushing of loads, the performance of work in constrained postures, repetitive tasks, and work involving high force exertion. Insufficient stress may be caused by a lack of movement, as for example in office or driving work.
Key topics and selected current and completed projects: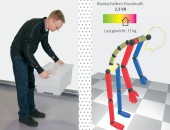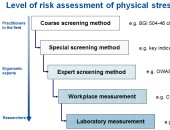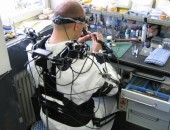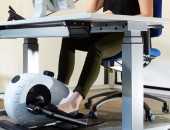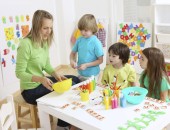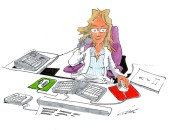 Further information

Co-ordinator:
Professor Dr Rolf Ellegast
Tel: +49 30 13001 3005/3006
Fax: +49 30 13001 38001
Email